You Shop, We Benefit
The Junior League of Orange County, California (JLOCC) and merchants partner to provide a shopping experience of unique products or services. A percentage of the profits from merchant sales support the mission of JLOCC.
We thank  you in advance for supporting our mission.
Amazon Smile – When Junior League of Orange County, California is selected as your designated charity,  Amazon will donate a percentage of eligible purchases back to the League.
GoodSearch – Yahoo-powered search engine that donates back to JLOCC each time you search the Web.
JLOCC Logowear – Show off your JLOCC pride with t-shirts, caps and mugs offered by CafePress.
Minted – 10% of purchases of select items will be donated back to the League.  Use the Promo Code: FUNDRAISEJLOC
Piano Fundraiser –  5% of proceeds from your purchase from Field's Pianos will be donated back to JLOCC.  To learn more, contact funddevelopment@jlocc.org.
ProValues – 10% of your purchase of this career navigation tool is donated back to the League.
Ralphs Rewards Card – Shop for groceries and earn a donation back to JLOCC.
---
Support Junior League of Orange County, CA
Tote Bag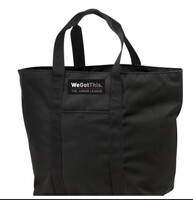 Our newest offering is this sturdy black tote bag perfect for running errands or shopping for groceries!  It's adorned with The Junior League logo and our catch phrase "We Got This!"  Click Here to Purchase
Cookbook
Orange County Fare is a beautiful compilation of the very best recipes submitted and tested by Junior League of Orange County  members.  In addition to a delicious collection of recipes, it includes a tour of Orange County through photographs and insightful information about the area.  Click here to purchase.

Sample Summer Recipe: Orange Cilantro Salsa (Page 40)
4 oranges, peeled, sectioned, and chopped
1 bunch cilantro, chopped
1 small red onion, julienned
1 small jalapeno chile, seeded and finely chopped
10 sprigs mint, torn
1/4 cup olive oil
1/4 cup red wine vinegar
Juice of 1 large lime
1 teaspoon salt
1/2 teaspoon pepper
Combine the oranges, cilantro, onion, jalapeno chile and mint in a bowl. Add the olive oil, wine vinegar and lime juice. Season with salt and pepper and mix well. Serve with corn chips or as an accompaniment for chicken or shrimp. Makes 2 cups.
SaveSave
SaveSave